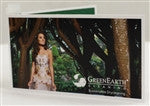 GreenEarth Sample with Card
GreenEarth Sustainable Drycleaning. This sample of GreenEarth solution allows you to demonstrate your GreenEarth difference. Each sample comes with a card featuring the benefits of GreenEarth with a sample bottle for you to fill with GreenEarth. Drycleaning that is good for your clothes, people and our planet. Odor Free, Non-Toxic, Non- Hazardous. See Touch Smell. The GreenEarth Difference.
GreenEarth Affiliate Network. Dedicated to doing business without doing harm to our planet. Gentle on clothes so they will stay brighter, softer and last longer.
With GreenEarth your clothes will smell clean and not drycleaned.